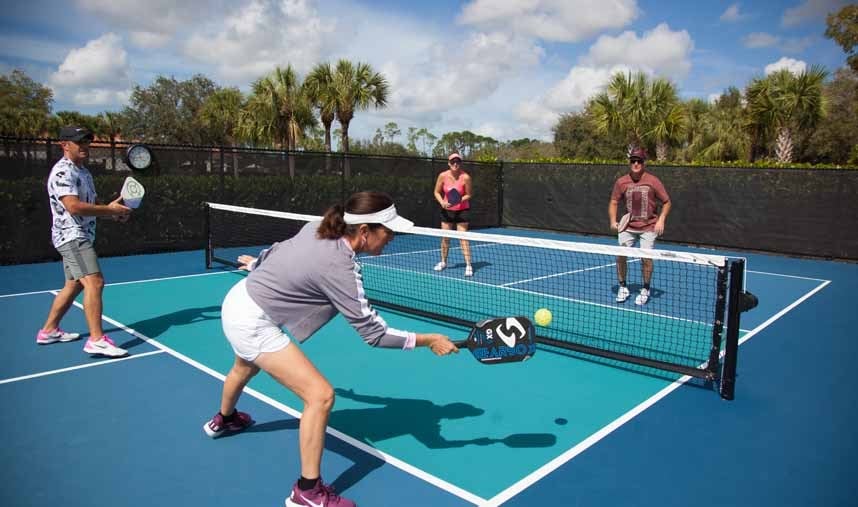 Pickleball: Exploring the Popularity of the Fast-Growing Sport
Pickleball, a paddle sport that combines elements of tennis, badminton, and table tennis, has been rapidly gaining popularity across the globe. This fun and accessible game, played with a perforated plastic ball and solid paddles, has captured the attention of people of all ages and skill levels. In this article, we will delve into what pickleball is, uncover the reasons behind its growing popularity, and gain insights from two experts in the field.
Sarah Johnson, an avid pickleball player, shares her thoughts on the game's appeal and why it has gained such momentum. She explains, "Pickleball is incredibly accessible and easy to learn. Its rules are straightforward, and the court is smaller than a tennis court, making it less intimidating for beginners."
According to Sarah, "The social aspect of pickleball is a major draw. It's a game that can be played in doubles, allowing for social interaction and creating a sense of community. People of all ages can come together, have fun, and enjoy some friendly competition."
Leslie Kennington, a sports analyst specializing in emerging sports trends, sheds light on the reasons behind pickleball's increasing popularity. He highlights a few key factors driving the sport's growth.
Kennington notes, "Pickleball's appeal spans across generations. Older adults are drawn to the game because it offers a low-impact option that is gentler on joints, providing a chance to stay active and maintain fitness. Younger players are attracted to the fast-paced nature of the sport and the opportunity to compete in a dynamic and exciting environment."
Pickleball's rules and mechanics are relatively easy to grasp, making it accessible to beginners. The smaller court size and slower pace compared to tennis make it less physically demanding, allowing players to get into the game quickly and enjoy the experience.
Unlike some sports that cater to specific age groups, pickleball appeals to a wide range of individuals. Older adults find it appealing due to its lower impact on joints, while younger generations appreciate the sport's fast-paced nature and competitive aspects.
Pickleball fosters a sense of community and social interaction. The game is often played in doubles, encouraging players to team up, engage in friendly banter, and build connections on and off the court. Many pickleball communities organize regular meetups and tournaments, creating opportunities for players to come together and forge friendships.
Pickleball provides a great workout that improves cardiovascular health, agility, and hand-eye coordination. The game requires quick reflexes, strategic thinking, and bursts of speed, offering a dynamic and engaging physical activity.
Pickleball can be played indoors or outdoors, on a variety of surfaces. Its adaptability makes it accessible to players in various climates and regions, ensuring year-round playability.
Pickleball welcomes players of all skill levels and ages, making it an excellent activity for families to enjoy together. It promotes inclusivity, allowing individuals with different abilities and backgrounds to participate and have fun.
Pickleball's surge in popularity can be attributed to its accessibility, social nature, multigenerational appeal, and fitness benefits. As experts like Sarah Johnson and Leslie Kennington suggest, the game's simplicity, social interaction, and adaptability have struck a chord with players across different age groups and skill levels.
Whether you're a seasoned athlete or a beginner looking for a new and exciting sport, pickleball offers a fun and inclusive experience that keeps you active, connected and engaged. So, grab a paddle, find a court, and join the pickleball craze that is sweeping the world.